The Demographic Imperative | The Elusive and Deceptive "Tipping Point"
U.S. Census population projections attribute virtually all current and future population growth to multicultural groups. The projected "Tipping Point" when America finally crosses the line to majority-minority has been fluid for some time with projections placing it somewhere between 2038 to 2043. It seems this should be a momentous occasion; however, a closer look reveals that this milestone is nebulous and that self-reported race and ethnicity classifications on the Census are as fluid as the projected tipping point.
Consider that every person filling out the decennial Census is asked to report their race and ethnicity and that of their children and others within their household. Further consider that the definitions of race and ethnicity have changed myriad times since the first U.S. Census in 1790 and estimates are that over 8% of respondents changed their race categories from the Census in 2000 Census to that in 2010.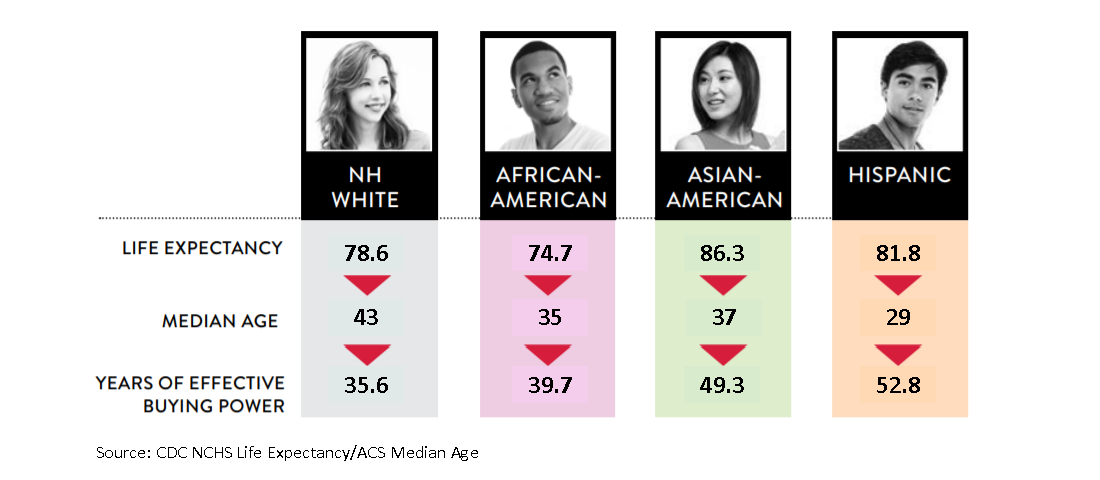 In addition to the uncertainty of self-reported data from the Census, it was not until 2000 that Americans could choose more than one race. Census estimates now expect that "Two or More Races" will be the fastest growing racial/ethnic category between 2010 and 2020 at more than 36% growth vs. a 1% growth rate for the non-Hispanic White population.
With the true definition of race and ethnicity being somewhat of a moving target and the mythical "Tipping Point" being even more elusive, we find that providing a structure and metrics to measure "cultural influence," considering inter-marriage, cohabitation, and proximity provides a much more realistic picture of the New Mainstream in America.
It's About Influence | So How Do We Define That?
All of us are born into households with cultural norms. These may vary widely based on influences of those we live with, whatever their relationship to us may be and however many different cultures make up the mélange of our respective households. If we divide the 117 million households in America into 3 types: Blended (more than one race or Hispanic country of origin), Unblended Multicultural (all the same non-Hispanic White race or Hispanic country of origin), or Unblended non-Hispanic White; we find that 53% of Americans under the age of 50 already live in either a Blended or Multicultural household. Waiting for a mythical tipping point makes no sense when the makeup of our households has already tipped!
Is there a better way to measure the cultural influence and proximity of those around us and the opportunity to think and act beyond the borders of our root cultures? At EthniFacts, we employ the Interethnic Proximity Index® (IPI) to capture the broader influence of cultures and to provide a richer illustration of America than through pure Census demographics. Based on this metric, we approximate that the intercultural "Tipping Point" of America actually happened on August 22, 2014 and that the current IPI for the U.S. is 54.8% vs. the 40% multicultural population currently reported through pure Census data. The bottom line is that multicultural influence is even greater than mere demographics might suggest.
What's the Long-Term Value of a Consumer?
Understanding the importance of the multicultural population and its influence on the New Mainstream is not an option for American businesses or civic organizations. It's an imperative demanding that entities lead with authentic cultural insights in a dynamic business climate where 52% of the Fortune 500 companies in existence in 2000 are no longer on that list.
The long-term value or years of effective buying power of multicultural consumers is a statistic often overlooked by companies as they evaluate the ROI of investing their R&D and marketing dollars in the future. While it's well documented that the multicultural population in America is growing faster and is much younger than non-Hispanic Whites; when compounded with the longer life-expectancy of Hispanics and Asian Americans, the years of effective buying power of a Hispanic consumer are 17.2 years longer than a non-Hispanic White, 13.7 years longer for an Asian American consumer and 4.1 years longer for an African American consumer. It's clear that investing in developing product lines, media, and messages that authentically appeal to and are sourced from multiculturals is the most direct path to future growth.
How Do I Lead with Cultural Insights and What Should I Do Next?
Keeping an ear to the ground and having an effective listening device that sources constant feedback from multicultural consumers is critical. The majority of trends today in media, music, fashion, entertainment, flavors, and countless other areas are bubbling up from the vibrant youth of America, who are predominantly multicultural. Corporate workforces and Boards must reflect these changes and innovation will become more natural. There is, however, a cross current and having reliable pan-cultural insights has never been more important as brands seek authenticity, but must avoid crucial infamous marketing mistakes.
There is equal danger for companies in sitting on the sideline and not taking a stand or in pandering and not "walking the walk" when it comes to social issues. In our most recent PICAT (Personality/Intercultural Affinity Tracker) study of American consumers with an oversample of multicultural groups, we found that 51% of all consumers and 58% of multicultural consumers are more likely to buy a product or service if the brand is perceived as taking a stand on issues important to them. Further, we found that 55% of all races and ethnicities say that companies should share and reinforce the values and ideals that unite Americans, an increase of 11 points in the three years since 2017. This was common to all cultural and ethno-racial groups, but the definition and depiction of those messages and values differs, making capturing consumer input to clarify the nuances and subtleties of critical importance.
Due to these unprecedented demographic and social shifts reshaping the U.S. consumer market, traditional activation approaches have become obsolete. Our approach to the consumer in this America Reimagined is to segment Ambicultural® consumers (those with behaviors, opportunity and mindsets to think and act outside their root culture) from Monocultural consumers (those that resist or don't participate in things outside their root culture). This unique continuum of Intercultural Affinity provides a structure and method to engage consumers with messages and content most likely to appeal to their individual and collective psyches and result in optimal clicks, views, votes, etc. Groundbreaking ad campaigns and bold public stands by CEO's are much less risky when guided by deep insights into who a brand's most loyal fans are and how their values are aligned with that brand.
For more information, please visit www.EthniFacts.com to start a conversation about your brand.
CLICK HERE TO GO BACK